(Prepared for the October 1999 edition of the Kenow Family Book)
Edgar M. Kenow was born in Faribault, MN on October 8, 1908. He was the fourth son of Albert and Mary Kenow. At birth, the family lived on Irving Avenue in Faribault, late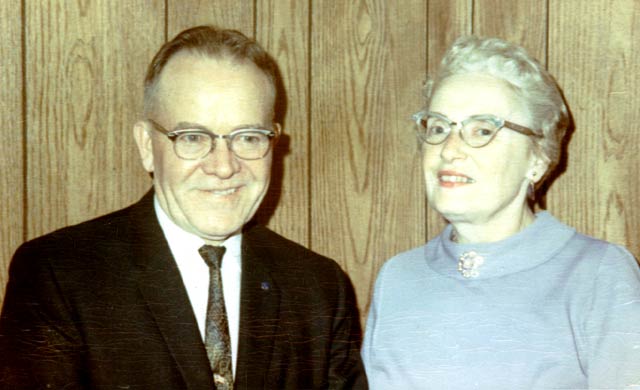 r moving to the "home place" on Prairie Avenue in Faribault.
Ed attended Trinity Lutheran School and Faribault High School in Faribault, MN. After completing the 10th grade, Ed left school to assist in living expenses for the family. He worked at the Shoe Factory in Faribault and in December 1924, he started working at Nutting Truck and Caster Co. In addition, he worked part-time at Nye's Greenhouse and Farmer Seed and Nursery Company. He retired from Nutting Truck and Caster Company in June 1974, completing 49 years and 7 months with the Company. Ed's last position with Nutting Truck was Foreman of the Steel Department.
Jeanette Bull was born in Stacy, MN on February 10, 1916. Her family moved to Little Prairie,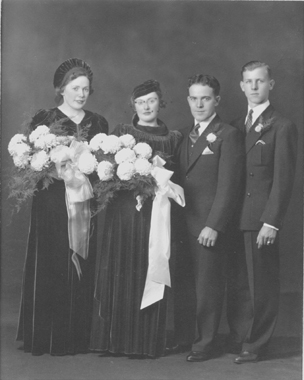 MN and later by Cannon Lake in Faribault, MN. She attended school at Stacy, MN, Little Prairie, MN, Faribault, MN and the University of MN. Ed and Jeanette met at the Roberds Lake Dance Hall in 1936 and were married on October 16, 1937. Jeanette's hobbies include writing poetry and doing crossword puzzles.
Ed and Jeanette have two children, Nancy who resides in Brooklyn Center, MN and David who resides in Owatonna, MN. Ed and Jeanette currently have 6 grandchildren and 7 great grandchildren. (2004 note: there are now 8 great grandchildren)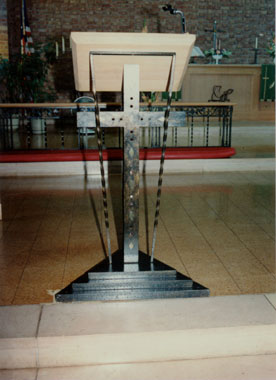 Ed's hobbies were gardening, wood working and fishing. His skill in metal working is evident in the lectern that he made for Peace Lutheran Church, plus other chancel furnishings he helped his brother Harold make for the church.
The Kenows
'Seated one night in my favorite chair,

My mind kept wandering here and there

And finally stopped at the Kenow Life and Family Tree.
It all began in 1901, when

Albert and Mary were united as one.

But not for long, for soon came Pat,

And every two years, or roundabout that,

Eleven more were added, to complete the pack.

These kids were all cared for
With Love, Devotion and always lots of commotion!

Pa worked hard at his various jobs,

Trudging down that well worn path,

Only to return at night to eat, and to spoon -

And chop that wood, by the light of the moon.

Ma would fly around doing all her chores,

Those little short legs and small little hands

Worked hard for her family, with the right to command. Her house very clean, and children too

The shelves well stocked and ice box too,

And the Old Family Range had nary a time

To ever cool off.

These twelve little Kenows grew up fast

And soon was time to leave their past.

To search for those talents, that each one had.

Now we have Highwaymen, Welders, Foremen, Woodworkers, Homemakers, Teachers, Tapers,

And Nurses with many more.
All have their homes and families, with children galore. Now you, Ma and Pa, in the Heaven's above,

Can be ever so proud,

for when we gather together

It makes quite a crowd.

So you; One and All -

Where ever you are, whatever you do,

Hold your head up high and shout with glee;

For you are a part

Of the Big Family Tree.'
J.M.K. 1997
| | |
| --- | --- |
| Last modified on 2011/9/17 by skenow | |